How to manage a move to
online learning

amid global crisis
IESE programs transition to online format thanks to agility, flexibility and global vision
On February 28, the day that IESE formed its academic committee to prepare to move classes online, there were 34 confirmed coronavirus cases in Spain.
On March 12, the school announced the temporary closures of its Barcelona and Madrid campuses as the outbreak, now officially recognized as a pandemic, spread with disconcerting speed beyond the initial epicenter in China and throughout Europe.
By then, 2,950 coronavirus cases had been confirmed in Spain. 
Students, faculty members and employees would be studying, teaching and working from home as governments scrambled to contain the crisis.
That two-week period laid the groundwork for a move to online learning now encompassing all MBA, Master in Management (MiM) and PhD program courses for a still-uncertain period.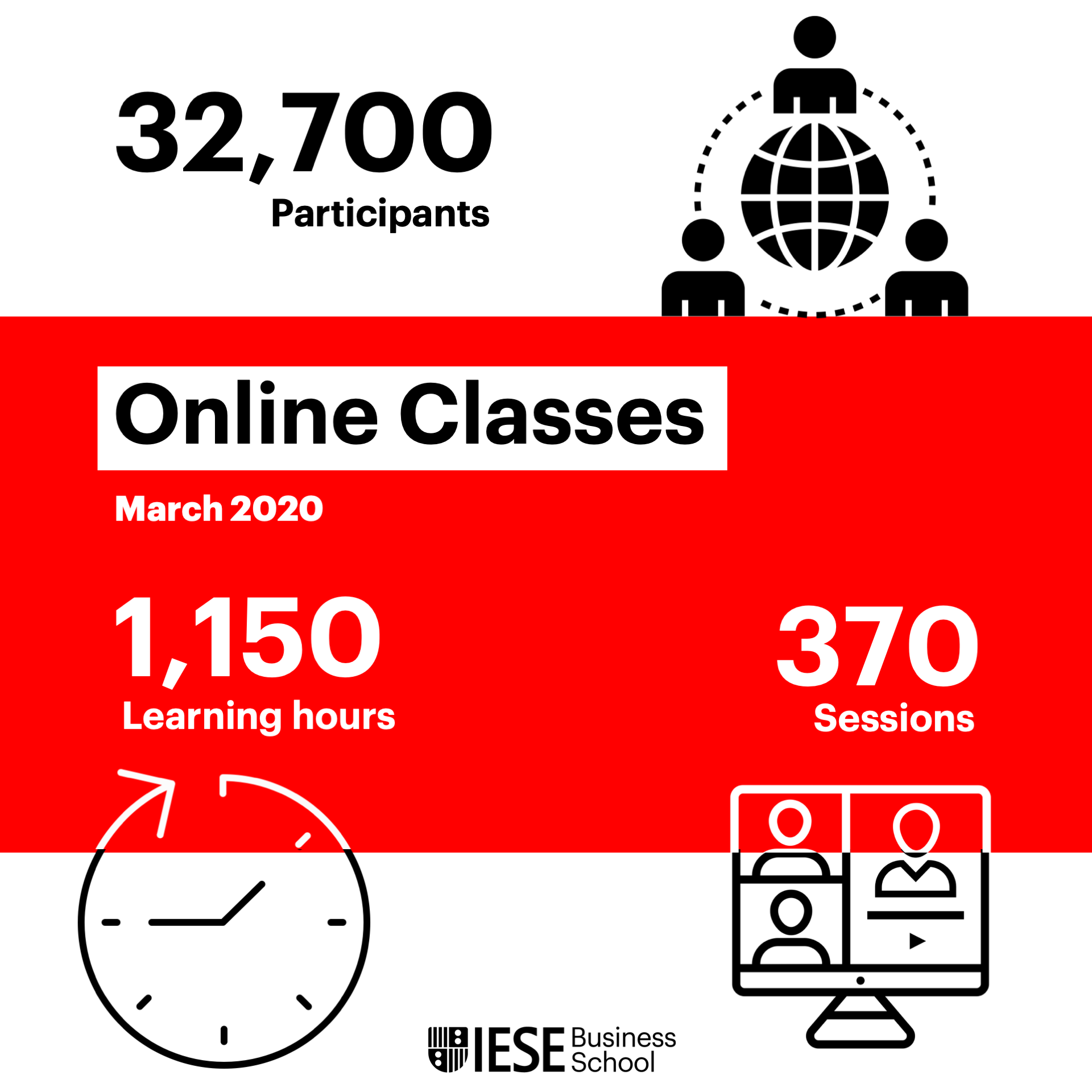 The Unlikeliest Scenario
IESE's transition to online learning was as necessary as it was unexpected. 
"Nobody really believed this would ever happen," said Sandra Sieber, a professor in the Information Systems Department and a member of the Covid Academic Committee. 
She refers to the fourth and final scenario initially laid out by the committee as it pondered various potential balances of on- and off-campus activity during the pandemic. Under the first scenario, a half dozen students would need to connect remotely; the second envisioned many more than that online; the third imagined class if the professor were quarantined; and the fourth, the most extreme, the closing of campus.
"Given our love for the campus, and the fine-tuning of the experience inside the classrooms we love so much, the fourth scenario, of all activity going online, seemed distant," said Sieber. 
As the health crisis worsened, committee members realized that the fourth scenario would become a reality. The committee faced the fluid situation with "confidence and bravery," said Sieber. It also drew on IESE's existing online learning resources, especially its WebEx platform capabilities.
But to meet the urgent widespread demand of the unprecedented situation facing IESE, the planning committee complemented WebEx solutions with those offered by Zoom, another online learning platform the school was less familiar with.
In short order, IESE drew up and continued to refine training sessions and guidelines for students and for professors, who would each be working with a technician and a coordinator to ensure the smoothest transition possible to digital coursework.
Setbacks and Persistence
"Not all programs reacted to the response in the same way," said Sieber. "With the millennials [in the MBA program] it was a given. But there was a degree of pushback from some Executive Education participants."
"The MBA students are really grateful for IESE's quick action in moving to online sessions, even before the official decree of confinement," said Program Manager Esther Curpián.
She added that with many students back in their home countries, time zone differences have produced certain complications. But the temporary solution is going well. 
Still, the committee was undeterred in finding as unified a solution as possible, and doing so amidst a crisis affecting IESE community members personally as well as professionally.
"It's our duty to care about what's going on in the world," said Sieber. "But it's also our duty to care about our students and participants. Finding that equilibrium was hard."
Lessons Learned
The experience of this rapid digitalization has left committee members with some key learnings of their own.
​Approach crisis management with an open mind. It's important to recognize that you won't have solutions to all the problems that arise. External collaborations were critical to IESE's coronavirus response by providing the schools with tools and abilities that it would have lacked otherwise.
Team work is fundamental to overcoming any crisis. This is perhaps the most important, and also least surprising, takeaway. Teamwork should always revolve around patience with and respect for uncertainty. "This situation required a longer and more profound interruption that we'd have liked," said Sieber. "But we're prepared for what's to come. And I can confidently say we'll emerge from this crisis more united than when we entered it."
Balance stringency and flexibility. In crisis management, a central question arises of when to begin and when to disband the teams organizing a response. In other words, when does the acute stage of a crisis, and the strict attention to specialized guidelines it requires, give way to a new normality?
On Sunday, March 15, the Covid Academic Committee was disbanded, to allow individual programs to make their own decisions and put individual preparations in place. The switch showed that agility in marking and moving between successive faces of crisis management is essential.
Find IESE's open access coronavirus resources and content.