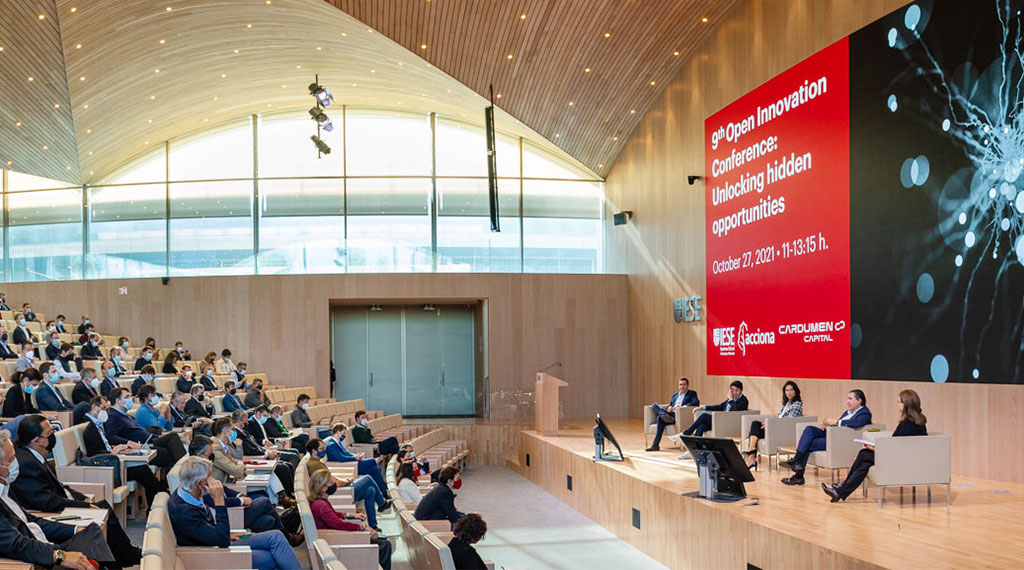 Open Innovation Conference: Finding opportunity in corporate-startup cooperation
In new report, 95 global innovation leaders shed light on how corporations can better innovate with startups via enablers
Different cultures, different sizes, different objectives and even very different profiles of managers. Startups and established companies are very different, yet many build successful projects together. How do they do it?
IESE's 9th Open Innovation Conference, a gathering of innovation executives held on IESE's Madrid campus, offered a double opportunity to its attendees. First, it served to present a new in-depth report on corporate venturing based on 95 interviews with innovation leaders in companies on four continents. And second, the conference featured panels of industry leaders: one of chief innovation officers and another of experts in open innovation and venture capital. The event was co-organized by IESE, Acciona and Cardumen Capital.
The new report — authored by IESE, in collaboration with Acciona and Cardumen — looks at how "enabling" institutions (research centers, consultants, accelerators, etc.) are increasingly key in successful corporate venturing. Enablers help established companies join forces with startups, offering distinct advantages from independent knowledge to opportunity deal-flow, cost de-risking and network effects.
Identifying Goals, Value, Financial Expectations Key 
Speakers at the conferenced included: the Chief Innovation Officers of Acciona (Telmo Pérez), Banco Santander (Manuel Cantalapiedra), Mutua Madrileña (Carmen del Campo) and Decathlon Spain (Kiko León); the Global Head of Open Innovation of BBVA (Ainhoa ​​Campo); the Managing Director of Telefónica Ventures (Guenia Gawendo); the Global Head of Innovation X of Airbus (Christian Lindener); and the General Partner of Cardumen Capital (Gonzalo Martínez de Azagra). The moderators, from IESE, were Prof. Mª Julia Prats, academic director, and Josemaría Siota, executive director of the Entrepreneurship and Innovation Center.
According to the speakers, the first key to a successful collaboration between an established company and a startup is for both to identify what their goals are and what they can offer of value. Decathlon's León recommended "looking for complementarity, avoiding overlaps and understanding that the relationship is not going to be purely transactional, because learning from others is also very important."
Del Campo agreed that "collaborating with startups is not just an investment" and that immediate financial returns should not be expected, and much less "at the same rate as a large company." She noted that one of the reasons her company, Mutua Madrileña, is betting on the startup Singular Cover is that it has managed to drastically reduce the cost of customer acquisition.
Another way for the relationship between small, disruptive firms and large companies to prosper is for the latter to have, from the beginning, the full involvement of their management. Telmo Pérez said this is one of the fundamental pieces of Acciona's strategy, but clarified that it has advantages and disadvantages. "The advantage is that it streamlines the process and pilot testing, and the business knows the startup and understands what it brings from the beginning." The downside, he continued, "is that business tends to propose, above all, incremental and non-disruptive improvements."
Timings, Agility Also Important
It's also important that established companies and startups be realistic about timings, and that bigger companies work to be more agile. "The deadlines that we have for making decisions in multinationals can be too much of a delay or even the end for a startup in its seed phase," Santander's Cantalapiedra said. Airbus' Lindener agreed: "No startup can wait six months for a large company to make a decision."
Established businesses, if they aspire to be successful in their relationship with a startup, must also align what they are looking for with the right vehicle for achieving it. "First, we must decide what we need; secondly, we must check if we have the right vehicle to achieve it," Campo of BBVA said. "If so, we get to work and if not, we look for the ideal vehicle and the partner that can best help us to develop it."
The panelists agreed that the fruits of optimal collaboration between an established company and a startup can be enormous, from the catalytic effect for the startup, to joint marketing opportunities for both, to the validation that the support of a strong brand means for a startup, to the advantages a big company has in attracting new investors or paving the way for merger or acquisition.
And to all this we must add the invaluable learning on both sides, the access to technology and top-level talent of the startup team and, of course, the possibility of obtaining a significant financial return in the medium term.