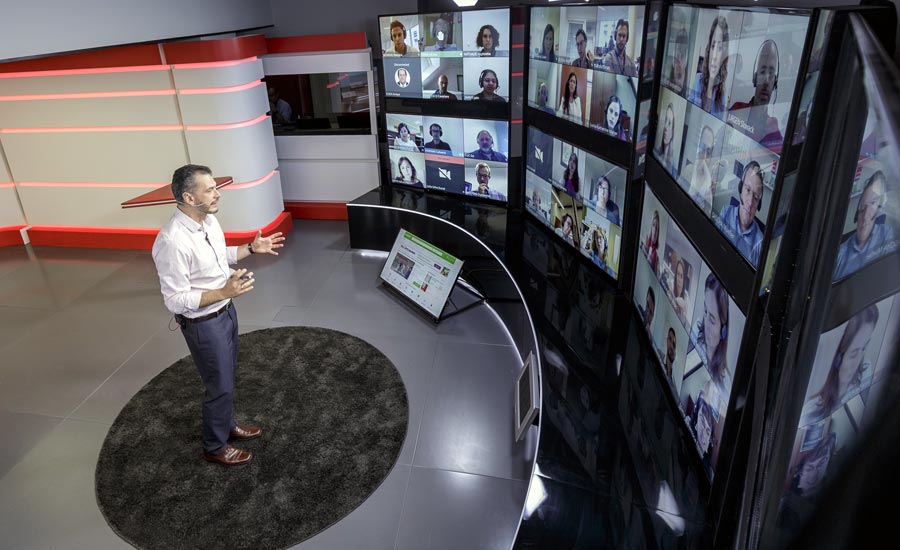 Reinventing the Classroom
New virtual classroom connects up to 80 participants at a time for discussion and interaction
IESE and audiovisual technology company Barco have launched a new generation classroom that combines the interaction of a physical classroom and the convenience of virtual learning.
This new space on the Barcelona campus allows up to 80 people to connect in synchronized sessions from anywhere in the world, in high quality and with an audiovisual production similar to a football match. This recreates the face-to-face learning experience students can have in on-campus sessions, and adds features that are only possible thanks to the technology.
"The virtual classroom allows us to overcome some of the more common obstacles in executive learning: namely, the time and expense involved with travel, which limits the use of face-to face learning," says Giuseppe Auricchio, director of IESE's Learning Innovation Unit. "With the virtual classroom, we can now extend learning experiences over time, by blending face-to-face with online learning."
To take part, students need only to connect via their browser and a computer with a camera and speakers. In exchange, they are submerged in a comprehensive classroom experience in which they can see and converse with the professor and their fellow classmates, take part in surveys and shared exercises, and save content from the whiteboard.
Benefits for Participants as Well as Professors
IESE has enhanced the advantages offered by the technology of this classroom with sophisticated audio-visual production (four person-operated cameras), ensuring high-quality interactions and avoiding the mental disengagement common in other virtual learning formats.
"It has been shown that attention levels in courses and webinars offered with a fixed camera and without production decline after a few minutes. Many students combine the screen with other activities and abandon the sessions," Auricchio says.
Professors also benefit from this technology, given that they see all the participants of the virtual classroom close-up and have highly intuitive tools to interact with them. Among other features, they have statistics and surveys available and the possibility of posting documents on an electronic board.
"The surprise is that we're participating in a conversation, and that conversation is flowing, that conversation is natural, that conversation involves many different people, and these are all the characteristics of an interaction that we would expect only from a face-to-face experience," says professor Evgeny Káganer.
IESE is planning to use this new technology in many of its programs to reinforce the face-to-face teaching that goes on at its five campuses.
According to Dean Franz Heukamp, "At IESE we have always emphasized the case-study method, centered around the discussion of business problems. We believe that this methodology must continue being the focus of our way of teaching and learning. But we want to make the most of the potential offered by digitalization to meet the ever-present demands in new ways. Technologies like the virtual classroom are a major step forward in providing continuity to physical participation in the classroom."
A Mosaic of Learning Methodologies, Formats and Contexts
The virtual classroom is just one more element within the IESE learning ecosystem called mosaic, which combines distinct methodologies, formats and contexts to optimize learning.
The mosaic of methodologies, contexts and formats allows IESE to design programs depending on learning objectives, the participant location and the best channel.
According to this vision, executive education can be individual, peer to peer or in a team. The methodologies used vary in each situation: for example, the case-study method works better in a team, but mentoring can only be done peer to peer.
The context also conditions the type of education that can be imparted. The IESE ecosystem includes five basic contexts:
Case classroom: classroom in the form of an amphitheater, central to discussion methodologies.
Flat classroom: flexible modular space, designed for active and game methodologies.
Team rooms: designed for collaborative work in small groups or for personal feedback and coaching sessions.
Virtual campus: information center for online access to all the resources and to interact with professors and students.
Virtual classroom: new generation classroom that reinvents the simultaneous virtual learning experience.
For more information see awaytolearn.iese.edu