Carmina Roca and Rafael Pich-Aguilera Women and Leadership Chair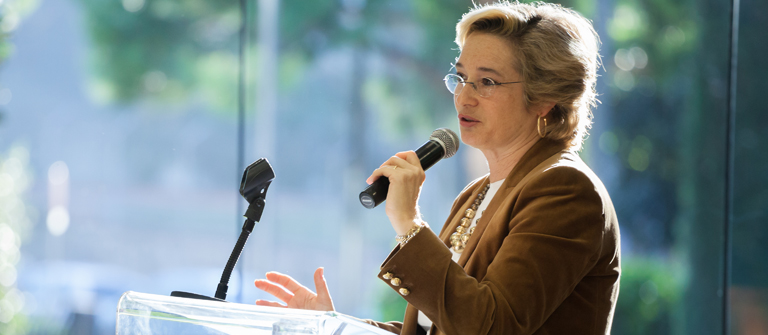 Holder of the Chair
Nuria Chinchilla is professor in the Department of Managing People in Organizations of IESE Business School, holder of the Carmina Roca and Rafael-Pich Aguilera Women and Leadership Chair, and Director of the International Center I-WiL.
Degree in Law from the University of Barcelona, MBA from IESE Business School, Doctor in Economic and Business Science from the University of Navarra. She also holds a Ph.D. in Business Management from IESE Business School (University of Navarra).
Diplomas from Harvard Business School and Stanford Graduate School of Management.
Executive Program in Organizational Change. Stanford University (1986).
Strategic Perspectives in Non-profit Management. Harvard Business School (1995).
She speaks seven languages and is married with one daughter. In 1984, she joined IESE's faculty as a professor and researcher.
Her areas of research include boards of directors, change management, organizational development, professional careers, work and personal life balance, corporate social responsibility, management competencies, time management, interpersonal conflict and the management of non-profit organizations.
She is a frequent speaker at European, U.S. and African universities, as well as at international conferences. She has been a visiting professor at business schools such as IPADE in Mexico, ISE in Brazil, INALDE in Colombia, IDE in Ecuador, PAD in Peru, ISE in Brazil, INALDE in Colombia, IDE in Ecuador, PAD in Peru, ESE in Chile, IAE in Argentina, IEEM in Uruguay, Lagos Business School in Nigeria and Strathmore University in Kenya.
Prof. Chinchilla has led sessions in more than 60 cities around the world.
Executive and board member
Nuria Chinchilla advises regional and state governments of various countries as well as public institutions, foundations and companies.
She has served on steering committees, boards and advisory councils such as the Council of Experts of the Generalitat of Cataluña, the Commission of Honor of the Business Forum of Spain, the board of directors of the Fundación + Familia, of the advisory board of the Quality Agency of the University System in Castilla and León (ACSUCYL) and of the board of directors of the Agrarian Family Schools of Cataluña.
She is a board member of the International Women's Forum and of the VIP Advisory Board of the European Professional Women's Network (EPWN). She has participated as an expert on committees for the United Nations on work-family balance and on family policies.
She was a candidate from Spain for the UN's committee against discrimination of women in 2012.
She is Honorary Member of the board of "The Family Watch," Honorary Member of the Independent Foundation, member of the Social Board of the International University of Cataluña, founding member of the National Commission for the Rationalization of Spanish Schedules, as well as Flexible Company Observatory.
She is member of the jury of the María Teresa Rodó Foundation and of the Capital magazine awards. For various years, she was also a member of the patronage of the Fundación Alares and served on the jury for the Fundación Bufí i Planas awards.
Professional associations
Nuria Chinchilla is also a member of professional and academic associations such as CEDE, Confederación Española de Directivos y Ejecutivos; APDO, Asociación de Profesionales en Desarrollo de la Organización; EWMD, European Network for Women in Management Development; and AEDIPE, Asociación Española de Dirección y Desarrollo de Personas. She is Academic Mentor of the IESE's Women in Business Club.
Editorial boards
Prof. Chinchilla is member of the scientific committee of Business Digest magazine; the editorial board of the magazine Excelencia Ejecutiva and of the newspaper Cinco Días. She was member of the editorial board of the magazine Nueva Empresa, of the advisory council of the journal of social and political studies Diàlegs.
Awards and distinctions
Among the recognitions that Nuria Chinchilla has recieved are: Best Executive of the Year (2001) by the Spanish Federation of Women Executives, Professionals and Entrepreneurs (FEDEPE); the "Most Valuable Speaker 2007" award of the Interban Network; The Executive Women Award (2008) in the category of work-life balance, in the magazine Estrategia Directiva; the ALMUR Prize; and the ASEM Gold prize, presented by Asociación Empresarial for her ongoing work in support of work-life balance, as well as the Fundación Alares prize for her outstanding professional, research and educational career.
She is the only woman included in the list of the "10 Best Executives" in Spain and she has been recognized for three consecutive years as one of the "100 Spanish women of the 21st century" (10 most relevant thinkers).
She is TOP 100 honoree (Mujeres y Cía.) and one of the 100 most influential people in Spain in 2017, according to the newspaper ABC.
In 2008, Prof. Jeffrey Pfeffer of the University of Stanford published a business management case on her, "Nuria Chinchilla: The Power to Change Workplaces," for use in the course "Power & Influence."
She was a candidate for Spain for the UN's anti-discrimination of women committee (CEDAW) in 2012.
Publications
She is the autor and co-author of various books, published in diverse languages, such as Masters of Our Destiny: How to Balance Professional, Family and Personal Life (Ariel, 2007); Being a Family-Responsible Company: Luxury or Necessity? (Pearson Prentice Hall, 2006); Feminine Ambition: How to Balance Work and Family (Palgrave, 2005); Decision Criteria for Selection Processes in Spain: Are Women Discriminated Against? (Fundación Adecco, 2003); Two Professions and One Family (Generalitat de Catalunya, Department de Benestar i Família, 2003), Leadership Paradigms (McGraw-Hill, 2002). Entrepreneuring in Feminine (1999) and The Woman and Her Success, (Eunsa,1995).
She is also author of the book Rotación de Directivos, winner of the EADA prize in 1996; of the Guía de Buenas Prácticas para la Empresa Flexible in 2004, 2005, 2006, 2007 and 2009, and the Guía para la Igualdad de Oportunidades para hombres y mujeres en empresas in 2005 and 2007.
She is a frequent collaborator in different media (TV, radio, press such as La Vanguardia, ABC, El Pais, Telva, El Mundo, and Capital)
Her academic publications and cases (journal articles, practical cases, technical notes) can also be viewed here
More information on her biography, press articles, interviews and published books can be found on her blog: www.nuriachinchilla.com

Contact
Prof. Nuria Chinchilla