Unlocking personal and professional potential
Executive coaching focuses on the individual from a holistic perspective. Through the coaching process, individuals discover themselves, their needs and personal values, their strengths and goals, becoming aware of where they are today in order to fully develop their intrinsic potential.
For 15 years, IESE's Executive Coaching Unit has been delivering first-class executive coaching to participants and students across many programs. It has also contributed to building the conceptual  framework on which the executive coaching process is based, by conducting research, workshops and conferences. It has also developed an innovative Leadership Coaching Program for senior executives and executive coaches.
To learn more about how the coaching process works, the different stages of coaching, and what you take away from the experience, download our brochure.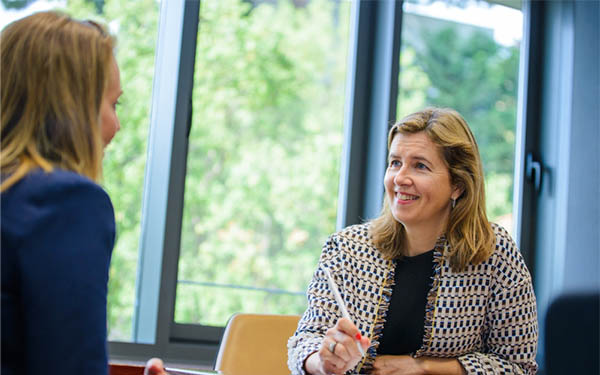 Leadership Coaching Program
IESE's new Leadership Coaching Program will teach you how to motivate and empower others to successfully navigate challenging times.
The 18-week program is designed for top executives who aspire to foster a coaching culture, as well as for executive coaches seeking to magnify their client impact.
Learn more
International Executive Coaching Symposia
Our annual International Executive Coaching Symposia bring together leading executives, scholars and coaches to discuss ideas and share experiences, producing powerful and practical insights.
Research and Thought Leadership
IESE's Executive Coaching Unit conducts extensive research on the foundations of executive coaching, the different assessment tools available, and the best coaching methodologies.
Over the last 10 years, IESE's coaching unit has published more than 30 cases and technical notes along with multiple articles related to executive coaching and assessment instruments.
Browse our research
Our Professional Coaches
IESE works with an exceptional network of executive coaches, who bring the breadth of their experience and the diversity of their nationalities and cultures, to the process. In addition to their coaching qualifications, all of them possess extensive and relevant experience in leadership roles in different sectors of business.
60+
Coaches, a highly qualified network
14
Nationalities, speaking a dozen languages
20
Years average experience, across sectors
60+
Coaches, a highly qualified network
14
Nationalities, speaking a dozen languages
20
Years average experience, across sectors
The Coaching Process in

6
Steps
The coaching process starts from the premise that the person undergoing coaching has the most and best information to resolve the situations they face. Rather than teach, over the course of a number of sessions, our coaches help clients to learn from themselves. The process requires these 6 steps:

Observation.
By considering new points of view and observing different paradigms, beliefs and behaviors, the client may choose fresh alternatives that help them to build the results they're seeking.
---

Awareness.
Observation produces greater awareness of our choices. The coach helps the client focus on the choices they make and their consequences, providing them with specific tools to make more effective and conscious choices.
---

Objectives.
Having clearly defined objectives is essential to obtaining them and will serve as a guide for the decisions and actions we take.
---

Action.
Once all the information has been gathered, it's necessary to act in a sustained way over time. The coach will closely monitor this process, overcoming the obstacles that usually arise as we implement our action plan.
---

Evaluation.
It's essential to monitor whether we're approaching or moving away from our targets, in order to take corrective actions and progress towards the goals we've set.
---

Commitment to action.
Every coaching process concludes with an action commitment aligned with the action plan previously established between the coach and the coachee.
---
♦

To find out more about how the coaching process works, download our brochure.
Would you like to learn more about Executive Coaching at IESE?
Don't hesitate to reach out.
Contact us!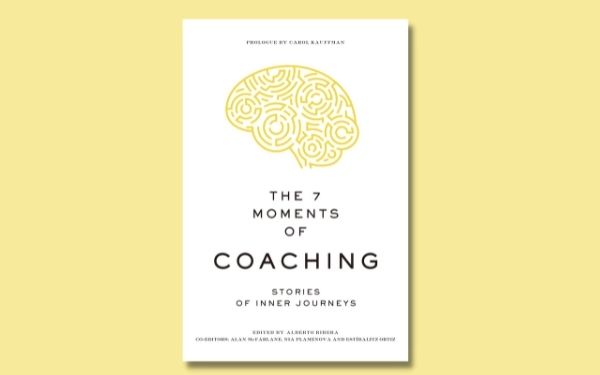 Moments of Coaching
In this book, 12 professional coaches who work with IESE's Executive Coaching Unit share real stories of how coaches helped clients face up to their workplace challenges, providing tools and tips to explain coaching concepts.
This slim, easy-to-read volume shows the key stages and moments of coaching, and delves into issues such as resilience, empathy, motivation, leadership, difficult relationships, decision-making and fulfillment.
Want a taste of the book's contents? Watch these short videos exploring these moments:
It's exactly the same, but I see it differently now!
Duh! It was staring me in the face all along!
Learn more