CBS - Center for Business in Society
The Social Entrepreneurship and Social Innovation Platform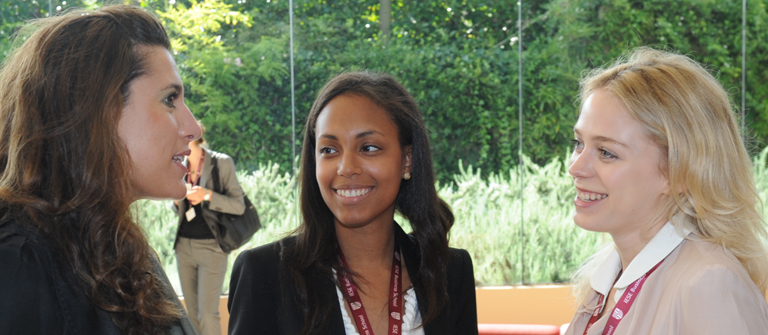 Team
Joan Fontrodona is co-director of the SESI Platform, full professor and head of the Business Ethics Department. The Center for Business Ethics (Bentley College), Harvard Business School and Universidad Francisco Marroquín (Guatemala) have all welcomed Prof. Fontrodona as a visiting scholar/fellow. He is the Chairman of Etica, Economía y Dirección (the Spanish branch of the European Business Ethics Network), and member of the executive committee of the Association of Spanish Entities adhering to the United Nations' Global Compact (ASEPAM). He also serves on the academic board of the European Academy of Business in Society (EABIS). He is a member of Forética, as well as associate researcher at the Enterprise and Humanism Institute of the University of Navarra. He also serves on the Commission for Social Responsibility of the Board of Auditors Censors of Catalonia (Colegio de Censores Jurados de Cuentas de Catalunya).
Antonino Vaccaro is co-director of the SESI Platform, academic Director of the Center for Business in Society and a full time faculty of the Business Ethics Department. Antonino received a MSc. in Engineering (Politecnico of Milan), a Ph.D. in Industrial Engineering and Management (IST, Lisbon) and two Post Doctoral Research Fellowships respectively in Ethics and Technology Policy (Carnegie Mellon University) and in Information Ethics (University of Oxford). Before joining IESE, Antonino has served as Executive Director of the Center for Ethics, Business and Economics of the Catholic University of Lisbon and as an adjunct faculty of the Heinz School of Public Policy and Management of Carnegie Mellon University. Antonino Vaccaro has worked in consultancy and applied research projects for such companies as Southern Company, Artsana Group, Tecnotre and Volkswagen. Antonino is also member of the boards of profit and nonprofit European organizations. Antonino Vaccaro's publications appeared in Research Policy, Journal of Management Studies, Journal of Business Ethics, Ethics and Information Technology and Technological Forecasting and Social Change.
Albert Fernández is professor in the Accounting and Control Department. His teaching, research and consulting work focus on the strategic implementation of management systems, including the specific areas of planning, information and follow-up, as well as control, evaluation and incentives. He is the Academic Director of the Social Entrepreneurship Initiative sponsored by "La Caixa" and member of the advisor board of the Ship2b platform.
John Almandoz is assistant professor in IESE's department of Managing People in Organizations. His background includes experience in actuarial consulting, corporate banking, and management of non-profit organizations. He earned a joint Ph.D. in organizational behavior at Harvard Business School and Harvard University, from where he obtained as well a master's degree in sociology. His dissertation focused on strategic and entrepreneurial implications of community mission among founding teams of local banks in the United States. He teaches courses on leadership and organizational behavior, as well as on crafting career trajectories and building leadership competences in MBA and executive programs. John has published in top journals such as Administrative Science Quarterly and Academy of Management Journal.
Heinrich Liechtenstein is an Associate Professor of Financial Management. He specializes in entrepreneurial finance, management of wealth and governance of entrepreneurial families. He is co-author on several publications on private equity. His ongoing research in this field focuses on operational value creation in private equity, impact investing and governance of entrepreneurial families. He is currently leading a research project about socially-responsible investing. Prior to his academic career, Professor Liechtenstein was engaged in the family owned Liechtenstein Global Trust (LGT) dealing with ultrahigh net worth individuals. He also advised families within the Boston Consulting Group and established and sold two successful businesses.
Alberto Ribera joined IESE in 2003 after a 15-year international career with World Health Organisation, European Commission and other multilateral organisations, in charge of projects in Africa, Southeast Asia and especially in the Middle East. From 1999 to 2003, he was General Director of the Euro Arab Management School. At IESE he is the academic director of the IESE Coaching Unit and teaches the MBA course "Personality and Leadership", which received the 2009 IESE Award for Excellence. He also teaches the Global Executive MBA course "Managing Oneself"; and executive courses on self-leadership, relationships management and professional coaching. He is the author or co-author of 9 books and more than 30 case-studies.  He has been invited as visiting professor or guest speaker at universities and business schools of more than 20 different countries and at international conferences like the World Economic Forum. He has taught courses for Enel, Compagnia di San Paolo, Banco di Napoli, Telecom Italia, Saint Gobain, The Arab Contractors, Egypt Telecom, BBVA, Banco de España, Enrst&Young, Hewlett Packard, PricewaterhouseCoopers and other firms. He is a board member of the Istituto per la Cooperazione Universitaria (Rome), Harambee Foundation (Nairobi) and other not-for-profit institutions.
Ricardo Calleja is a Postdoctoral Research Fellow at IESE Business Ethics Department, where he is working on two research papers along with Prof. Domenec Mele. He teaches Ethics at the Centre for Public Management (IESE). He has taught Business Ethics at Centro Universitario Villanueva (Universidad Complutense de Madrid). He has been Director of Colegio Mayor Moncloa (an educational institution linked to the Universidad Complutense de Madrid), and elected for 3 years as member of the board of the Asociación Nacional de Colegios Mayores, where he contributed to the first steps of the European University Colleges Association. He has been the director of a number of summer development projects in empoverished zones of Ecuador, México and Perú. He is a member of Xyomara's International Group Ethics Comitee. He has done two research stays at NYU Law School.
Valeria Cavotta is a PhD candidate in strategy at University of Lausanne, currently visiting Ph.D researcher at at IESE Business School under the supervision of Prof. Vaccaro. Her research focuses on processes of social construction in contexts of illegal economies, in particular those characterized by the presence of organized crime.
Tommaso Ramus is an Assistant Professor at Catolica-Lisbon (CLSBE) and a senior research fellow of the SESI platform. Before joining Catolica Tommaso collaborated with the Center for Business in Society as Ph.D visiting student and lately as post doctoral researchers. Tommaso's research concerns legitimacy threats experienced by social enterprises dealing with complex institutional environments. He has published in the Journal of Business Ethics and Voluntas.
Barbara La Cara: Since September 2013, Barbara La Cara is a PhD Candidate in Prof. Stefano Brusoni's Chair for Technology of Innovation Management at ETH, Zurich (Department of Management Technology and Economics) and in co-supervision with Prof. Antonino Vaccaro Before joining ETH, Barbara received a MSc in Business Economic Sciences (University of Palermo, Italy) and collaborated as independent researcher with the Center for Business in Society at IESE Business School. Barbara's research focuses on processes that lead to the creation of social innovations in the field of Social Entrepreneurship and on Decision-Making processes in the field of Social Entrepreneurship.
Yan Bai will join the IESE Ph.D program in September 2014. She received a B. A. in Economics (Finance) and M. A. in Foreign Linguistics (Intercultural Business Communication) from Xi'an International Studies University, China. Before joining MRM/PhD program in IESE, Yan has served as an assistant professor in Xi'an International Studies University, where she taught Ethical and Professional Standards of Charted Financial Analyst (CFA) curriculum for undergraduates. Yan's research interest is organizational transparency, especially online transparency and cultural influence on organizational transparency.
Mireya Garcia Duran is an EMBA 2014 from IESE and holds a Master s degree in International Peace Studies from the University of Notre Dame, where she conducted research on "Reconciliation: seeking peace and justice through non-oppression" thanks to a La Caixa scholarship. She previously had completed a Bsc in Political Science in the US. She speaks French and English besides Spanish and Catalan, her mother tongs. She has volunteered for several organizations both in the US (Mexican Immigrant Women) and in Barcelona -her hometown (with homeless and families without earnings), but she understands her interest in social entrepreneurship comes from other motives: problem solving, thinking out of the box, empowering people, making things happen and change. She defines herself as an entrepreneur with intellectual and social needs.
Inés Alegre is an assistant professor at the Business and Economics School of the Universitat Internacional de Catalunya (UIC), where she is teaching statistics and econometrics. She obtained her PhD in Management at IESE Business School. Her research focuses on social entrepreneurship and specifically on how social businesses manage and balance the social and economic objective. Before doing her PhD, Inés completed a Master of Research in Management at IESE Business School and she holds a degree in Industrial Engineering. Inés has been teaching courses on social entrepreneurship and on statistics, accounting and economics in several universities like UPC, UPF and IESE in the last years.
Ricardo Tavares is an IESE MBA (class 2014). He is currently collaborating with Addiopizzotravel, an anti-mafia tour operator, with the objective to attract Brazilian to the responsible tourism system created by Addiopizzo Travel.
Emma Álvarez Manero is a social media manager at IESE Business School. She has been enthusiastically supporting the SESI platform since its creation. Emma is currently helping the launch of new social communication initiatives and on the support to critical projects of the platform.
Contact
The Social Entrepreneurship and Social Innovation Platform
IESE Barcelona