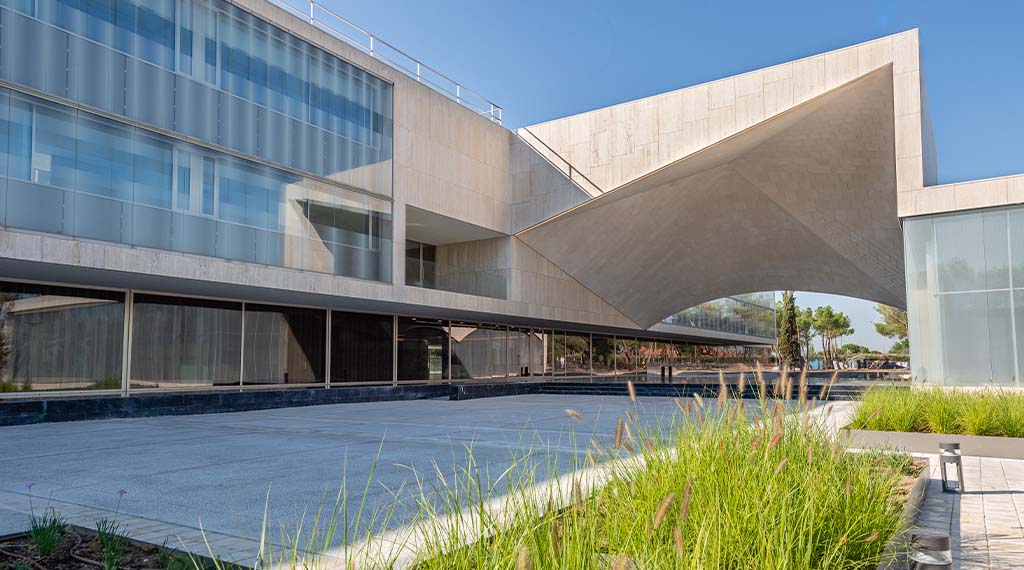 IESE triples its campus in Madrid with focus on sustainability and entrepreneurship
School plans to increase activity in the Spanish capital by 50% over the next 5 years
IESE has launched its new campus in Madrid, tripling the previous area of the campus in the Spanish capital and allowing the school to increase its activity there by 50% over the next 5 years.
With this expansion, which has involved an investment of €52 million, the Madrid campus now covers 33,600 square meters. The new space consists of an acquired plot of 21,900 m2, added to the previous campus area of 11,700 m2. Together, they form a single, united enclosure encompassing two large buildings surrounded by forest. The new campus building, called Executive, has an area of ​​16,300 m2, while the old building, now called the Master building, totals 13,600 m2.
The new facilities include four new amphitheater classrooms, a high-tech multipurpose classroom, an auditorium with natural light for more than 500 people, and underground parking for 300 vehicles.
A space for leaders in sustainability
The campus is located in Pinar del Cerro del Águila which is within the vicinity of the Casa de Campo, the main green lung of the city of Madrid. This, together with architecture based on open spaces, large entrances of natural light and the use of green energy, makes it an ideal environment for the training of environmentally responsible managers.
The new building has obtained LEED Gold certification, which recognizes its high environmental standards. Among other features, it uses 100% renewable energy, has intelligent control of the facilities and air conditioning, and consumes 40% less water than a conventional building.
IESE has consistently focused on promoting the development of sustainability-conscious managers. In line with this, IESE has launched the following initiatives for the 2021-22 academic year:
New MBA program specialization in SDGs (Sustainable Development Goals, Environmental, Social and Governance.) Participants will delve into better environmental, social and governance practices for companies, as well as the new criteria for sustainable investment.
Creation of an Initiative for research and teaching in sustainability, which brings together more than 10 professors and researchers from all disciplines of business management to generate knowledge and good practices that can be applied in programs and companies.
Certificates of training in sustainability. By taking several short and specialized programs at IESE, it will be possible to obtain an accreditation recognized in the market.
A Global Alumni Reunion dedicated to sustainability. Between November 11 and 13, the annual conference for IESE alumni will bring together more than 40 international experts in sustainability this year. It will be a hybrid event for more than 10,000 people, broadcast from the new IESE campus in Madrid.
In addition to its training offer, the school has renewed its internal sustainability policy, with new travel recommendations for its employees and a plan to attract female talent.
A hub for entrepreneurs, innovators and investors
With the expansion of the Madrid campus, IESE also deepens its commitment to entrepreneurial talent. The second Venture Hub of the school will be housed in the new campus, creating a dedicated physical space for entrepreneurs, innovators and investors.
In addition, IESE intends to achieve these sustainable development goals (SDG) before 2030:
Generate 50,000 new jobs by supporting 5,000 entrepreneurs in the creation of new companies and in raising more than 500 million euros in risk investments.
Reach 2,000 high-level innovation managers through research and IESE activities.
Develop 200 new publications related to corporate entrepreneurship, technology transfer, search funds, and angel investing.
IESE has been working with entrepreneurs, innovators and investors for decades. To date, more than 70,000 jobs have been created around the world thanks to IESE-trained entrepreneurs, who have raised $3.6 billion in invested capital. Thirty percent of IESE students have also started a company in the 5 years after graduation.
The new campus will further strengthen the international ecosystem of IESE´s entrepreneurial initiative in Madrid, with networking and financing networks through multiple initiatives such as the Technology Transfer Group, the Open Innovation Institute, the International Search Fund Institute, the venture capital fund Finaves, the Business Angels Network, and the weGrow mentoring program.
History of IESE in Madrid
IESE landed in Madrid in 1974, at the request of former students who lived in the capital. Seven years later, after the PDD and PDG executive programs had been consolidated, the school launched the first Executive MBA program in Europe to great success.
The first Madrid campus was inaugurated in 1991, and delivered Custom Programs for national and international companies, as well as management programs such as the PDD, PDG and PADE. In 2004, the first expansion of the campus was made.
The Master in Management (MiM) was launched in 2019. It is IESE´s first full-time program to be delivered from the Madrid campus, and the first program aimed at recent graduates.
Finally, 2021 sees the inauguration of IESE´s new Executive building, whose works began in 2018.